Fresh News
We're bringing you the freshest news on all things food + more!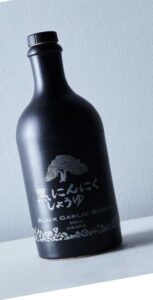 10/11/2021
Haku Black Garlic Shoyu Sauce is the latest addition to the already excellent assortment of sauces at Bianchini's.
Shoyu is a Japanese-style soy sauce that is a mash of soybeans and wheat. Traditionally sweeter with a more nuanced flavor profile, Haku Black Garlic Shoyu Sauce contains notes of fig, molasses and raisin with subtle notes of garlic. The Haku family is renowned for their shoyu, honing their techniques over many generations to produce a sauce that is unparalleled. Enjoy Haku Black Shoyu Sauce with your rice, as a dressing or dip, drizzled over ramen, as a base for stir-fry or marinade for meat. Stop by your local Bianchini's this week to get your own bottle of Haku Black Garlic Shoyu Sauce.
10/11/2021
Celebrate National Mushroom Day
Enjoy your favorite mushroom dish this Friday in honor of National Mushroom Day! Whether you love your mushrooms satuéed, roasted, baked, grilled or fresh, there are so many ways to prepare these tasty little morsels. Did you know that mushrooms are a good source of protein? They're also rich with potassium, B vitamins, vitamin C, calcium and zinc. For a yummy twist on the everyday burger, try swapping out the patty for a grilled portabella, it's hearty, savory and satisfying. Stop by your local Bianchini's to find Chanterelle, Cremini, Portabella, Shitake and more many more mushrooms. Browse our mushroom recipe collection for even more fun ideas!
10/04/2021
The MLB Playoffs begin this Tuesday, October 5th!
Let's hear it for the home team, The San Francisco Giants! Before the first pitch, stop by your local Bianchini's to get all of your favorite grilling items. Pick up burgers, brats, chicken, steaks, hot dogs, ribs and more. Once you've seen our selections, you'll know why Bianchini's was voted Readers' Choice Best Place to Buy Meat for three years in a row. Browse our grilling recipes for mouthwatering ideas.
10/04/2021
Fiesta of Flavors on National Taco Day
Did you know that National Taco Day is this today, October 4th? We're celebrating by enjoying our favorite tacos all day long! There are so many taco variations, the hardest part will be which taco to have first. There's ground beef, steak, shredded pork, grilled chicken, vegetarian, bean and cheese, breakfast taco; and that's not including salsa, cilantro, avocado, tomatoes, diced onion and grilled peppers. The taco possibilities are nearly endless! Whether you love a crunchy hard-shell taco or a soft flour tortilla, we have a delicious taco recipe that's sure to tickle your taste buds.
9/27/2021
National Coffee Day is this Wednesday, September 29th.
Join us in celebrating this buzzworthy day by enjoying a hot cup of joe. Did you know that coffee is the third most consumed beverage in the world? Right after water and tea respectively. Here's a fun fact, coffee has been enjoyed since the 15th century! With the coffee seeds roasted and brewed much in the same way we prepare coffee today. Coffee is a highly versatile ingredient that can be added to cakes, cookies and pies, mixed into ice cream floats, used in a steak rub, and don't forget about the classic dessert tiramisu. Here some truly delicious coffee-centric recipes we'd love for you to try at home. 
9/27/2021
Harvest of Autumn Apples
Farm fresh apples from the orchard have arrived at Bianchini's! Stop by our produce department during the week to find over 25 varieties of apples. To celebrate the apple harvest, we have collected over 75 apple recipes; all delicious, easy to follow and sure to put a smile on everyone's faves. Enjoy sweet treats like apple pie, apple cobbler, apple streusel, and caramel apples, or prepare something a bit more on the savory side by adding apples to your favorite dishes. For more delicious apple ideas check out our recipe collection.
9/20/2021
Carmel Berry Elderberry Syrup is an artisanal syrup that is made with just 3 ingredients: fresh, never dehydrated American elderberries, organic sugar and organic Meyer lemon juice.
Elderberries are well-known for their immune system support, as they have anti-inflammatory and anti-viral properties. On top of that, elderberries are an excellent source of antioxidants, having more antioxidant power than blueberries, cherries and pomegranates! Carmel Berry Elderberry Syrup is grown on sustainably sourced small family-owned farms and handcrafted in small batches. It has a nice balance of sweet and tart, perfect as a mixer for cocktails, added to soda water for extra zing, blended into smoothies, drizzled over pancakes or ice cream, or simply enjoy this elderberry syrup as a shot to jumpstart your day!
9/20/2021
Love Local – 25 Years of Lakeside Organic Gardens
California's own Lakeside Organic Gardens is celebrating their 25th anniversary! Family-owned and operated, owner Dick Peixoto personally walks his fields daily to guarantee that their 50+ organic vegetables are of the highest quality. When facing a challenge in the field, Lakeside Organic Gardens uses a different approach to solving the problem, they work with Mother Nature. By incorporating crop rotation and composting techniques, the soil remains nutrient rich and fertile. Lakeside also uses beneficial insects like Lady Bugs to act as insect control, bypassing the need for insecticides. Being a good steward to the land and the environment is an essential part of Lakeside Organic Gardens' business. Stop by Bianchini's today and browse our bountiful selection of organic produce. It's easy to see why Bianchini's was voted Readers' Choice Best Produce.
9/13/2021
Love Local – For the Love of Cheese
Calling all Bay Area cheese lovers, Bianchini's is your local cheese headquarters! We have an extensive selection of locally produced cheeses, from traditional cow's milk to sheep, goat and even water buffalo milk. Nicasio Valley Cheese Company is a 100% organic pasture-based ranch that uses fresh organic farmstead cow's milk as the base for each and every cheese. Bellwether Farms sets the standard for quality cheese. Purveyors of both cow and sheep cheeses, the crown jewel of Bellwether is their sheep cheese log. Available in 5 flavors, Original, Orange Marmalade, Moroccan Spice, Sonoma Herbs and Strawberry Preserves, so there's something to suit everyone's taste. Morsey's Farm is the only local farm that uses water buffalo milk to craft its cheeses. Buffalo milk is smoother, creamier and sweeter than cow's milk. Enjoy Morsey's cheese on a salad or with your favorite fresh baked pizza. If you have any questions about cheese selection, pairings suggestions, or anything else, our staff is more than happy to help!
9/13/21
It's Tomato Time in the produce department.
Stop in for fresh Hollister organic beefsteak tomatoes. We have partnered with Pinnacle and Lunas family farms in Hollister and San Juan Bautista to deliver the freshest crops of beefsteak tomatoes available. Red beefsteak tomatoes are noticeably larger, and juicer compared to other tomatoes. They have a mild flavor which makes them ideal for dips and sauces, sliced thick BLT sandwiches or diced up for salads. Check out our tomato recipe collection for more kitchen inspiration.
More News