Fresh News
We're bringing you the freshest news on all things food + more!
05/23/2022
Happy National Hamburger Day!
Fire up the grill to celebrate National Hamburger Day this Saturday, May 28th. The hamburger we know and love today has a tricky history. Precisely when and where the recipe originated is up for debate. What is known for certain is that the hamburger gets its name from the German city of Hamburg and gained worldwide recognition at the 1094 World's Fair in St. Louis. What's not to love about the hamburger? It's simple by design and endlessly customizable, a single beef patty between two baked buns and topped with anything from lettuce, tomato, onions and pickles to ketchup, mustard, bacon and cheese. Whether you love yours with a swirl of ketchup and mustard or piled high with everything on it, there are so many ways to top a burger. Check out our hamburger recipe collection for some tasty ideas.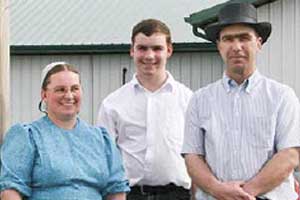 05/23/2022
We continue American Artisan Cheese Month highlighting Milton Creamery located in Southern Iowa.
Owned and operated by the Musser family since 2006, Milton Creamery began with the goal of creating high quality specialty cheeses that people will truly enjoy. And after just three years of operations that goal became a reality when Milton Creamery brought home a first-place award from the U.S. Cheese Championship with their Prairie Breeze aged white cheddar. The strong sense of community has lead Milton Creamery to buy their milk exclusively from local family-owned dairy farms and employ a staff of approximately 30 people who are considered friends and neighbors. You can find Milton Creamery cheeses and many other artisan cheeses in Bianchini's cheese department.
05/23/2022
Serve your next hamburgers and hot dogs on As Kneaded Bakery's artisan hamburger and hot dog buns.
Owned and operated by Iliana Berkowitz, As Kneaded Bakery has had one goal since the beginning, to deliver wholesome breads with unparalleled taste, texture, and substance. Their hamburger buns are picturesque, golden yellow in color with a fluffy texture that's ideal for grilled burger patties or sandwiches. And their hot dog buns are equally fantastic, with the classic soft airy texture that lends itself perfectly to fresh grilled hot dogs or lobster rolls. Find As Kneaded Bakery's artisan hamburger and hot dog buns along with sourdough loaves and French Baguettes in your local Bianchini's today.
05/16/2022
This week is American Craft Beer Week, May 16th – May 22nd.
Join us in celebrating the hard work and dedication of the numerous local breweries across the nation. Did you know that the Bay Area has become a hot spot for craft beer? In fact, San Francisco is now home to over 120 craft breweries and brewpubs. Talk about a beer lovers paradise. Stop in your local Bianchini's this week and explore our beer aisle to find a wide variety of dark stouts, amber lagers, hoppy IPAs and everything in-between. We hope you make Bianchini's the destination for all of your American craft beer needs.
05/16/2022
American Artisan Cheese Month continues with Fiscalini Farmstead, a four-generation family owned and ran dairy farm and cheese maker, located in Modesto, California.
Fiscalini Farmstead began as a 160-acre dairy farm in 1914 and expanded in size over the years to include crops and forages for the cows. Working to become completely sustainable by investing in green technology. Growing most of the feed for their cows, the carbon footprint is reduced and using an all-natural fertilizer is better for the cows, better for the environment and helps enrich the soil and the surrounding land. With the investment into a methane digester that converts natural waste into the energy that powers the entire facility and 300 neighboring homes. And having their cheese facility just 30 feet from the milk parlor guarantees the milk is as fresh as possible, ensuring a superior tasting and higher quality cheese. Stop by our cheese department this week and taste a Fiscalini Farmstead artisan cheese for yourself.
05/16/2022
Eating Healthy Never Tasted So Good
Mark your calendar for one of the healthiest days of the year. Eat More Fruits and Vegetables Day is this Saturday, May 21st! Since 2015, May 21st has been the day dedicated to incorporating fresh fruits and vegetables into the diet to combat obesity and lifestyle diseases. Both fruits and vegetables provide essential daily vitamins and minerals, like, vitamins A and C, iron, potassium, calcium, dietary fiber and folic acid. These nutrients help support healthy bones, nourish the skin, support healthy brain and eye function, and maintain normal cell function. It's easy to add fruits and vegetables to your daily meals. Have a banana with your morning oatmeal or cereal, substitute a salad in place of your normal lunch, enjoy an apple as a healthy snack and add steamed veggies to your dinner. Make this May 21st your first step towards a healthy lifestyle and find ways to include fruits and vegetables in every meal. Stop in your local Bianchini's to pick up fresh and flavorful produce. Once you've seen our selections, you'll know why Bianchini's is the winner of the Readers' Choice for Best Produce. And be sure to browse our fruit and veggie recipe collections, we have so many tasty ideas just waiting to be enjoyed.
05/09/2022
Join Us in Celebrating National Salad Month throughout May.
Enjoy salad staples, like, Caesar, Cobb, Greek, Waldorf and Wedge all month long! Whether it's a side or the main course, the salad is the star in May. Get creative and shake things up by adding something new to your favorite salad or drizzle on a new dressing you've had your eye on. Let Bianchini's help turn over a new leaf in May by incorporating salads into your weekly menu, it's an easy step towards a balanced diet. Browse our salad recipe collection to find everything from quick and simple to complex and unique.
05/09/2022
May is American Artisan Cheese Month, and to kick things off, we are featuring Firefly Farms Handcrafted Cheese's Bloomy Breeze, Mountaintop and Merry Goat Round
Founded by Mike Kock and Pablo Solanet, Firefly Farms is located in Western Maryland. They are artisan cheese makers that have dedicated themselves to delivering the finest cow and goat milk cheeses without additives, preservatives or stabilizers and never any added hormones or antibiotics. Bloomy Breeze is a soft-ripened cheese made with blend of fresh milk from Holstein and Jersey cows. First aged for three-weeks, then wrapped and aged for an additional month. The end result is a rich, luscious, velvety white cheese with an edible rind. Mountaintop is an award-winning innovative soft-ripened cheese. Taking the classic pyramid shape of a Valencay, the ripening agent instead of ash is blue. This delectable cheese has a mild yet rich flavor with a decadently creamy texture. And last but certainly not least, we come to Merry Goat Round. With it's super creamy texture and mild, clean flavor, Merry Goat Round is for all cheese lovers especially for those Blue to Brie connoisseurs. Best of all, the rind is where the best flavors are! It's soft and bloomy, and edible at every stage of ripening. We hope you stop by our cheese department and bring home one of Firefly Farms artisan cheeses to share with your friends and family.
05/09/2022
Let's Get Cooking!
Every cut of beef, pork, poultry and seafood have distinct qualities that separate them from one another and require different methods for cooking. Think of it this way, would you grill a salmon fillet the same way as a T-bone steak? Let Bianchini's help you navigate the world of cooking meats. We have an easy-to-navigate page for beef, pork, poultry and seafood, with suggestions on which cut of meat is better suited for baking, broiling, pan frying, grilling, roasting and braising, as well as recipes next to each that can help you make truly great tasting meals. Count on Bianchini's, the Readers' Choice Best Place to Buy Meat & Seafood, to provide the finest and freshest beef, pork, poultry and seafood available.
05/02/2022
Celebrate American Artisan Cheese Month throughout the month of May.
To kick off our cheese celebrations, we are featuring Cypress Grove cheeses. Located on California's North Coast in Humboldt County, Cypress Grove are purveyors of premium goat cheeses. Founded by Mary Keehn, a single mother of four, who was searching for a healthy milk to give her children. One of her neighbors owned a farm that used goats to maintain the brush. After inquiring about purchasing two, the neighbor stated that if she could catch them, then the goats are hers. After a bit of work, Esmeralda and Hazel the goats became a part of Mary's life. Soon, the goats multiplied and so did the milk. Curious about making cheese, Mary began to travel around the world to learn from the cheese making masters. Cypress Grove opened their doors in 1983 and have been honing their cheesemaking skills over the years to adapt to the changing tastes of the customer. In 2010, Cypress Grove built their own dairy, making the animal's happiness and health the primary focus. This mindset earned Cypress Grove the American Humane Association's endorsement of Humane Certified with a score of 100% three years running. With so many delectable cheese from Cypress Grove, it's only fitting there's a mac & cheese recipe featuring the award-winning Midnight Moon.
Midnight Moon Mac & Cheese
Homemade mac and cheese at its very finest.
Ingredients
1 cup grated Midnight Moon cheese
2 cups grated cheddar cheese, medium or sharp, your preference
2 cups shredded Monterey Jack cheese, or mozzarella
1 lb. rigatoni noodles
Olive oil, for noodles
1/2 cup unsalted butter
1/2 cup all-purpose flour
1 1/2 cups whole milk
2 1/2 cups half and half
1/2 tablespoon salt, more to taste
1/2 teaspoon ground black pepper, more to taste
1/4 teaspoon paprika, more to taste
Directions
Preheat oven to 325°F. Grease a 3-quart baking dish with cooking spray. Set aside.
Fill a large pot with water and sprinkle with salt. Bring water to a boil.
Combine the grated Midnight Moon and cheddar cheeses with the shredded Monterey Jack in a mixing bowl. Toss to combine.
Separate the cheese into three piles. One pile should be 3 cups of cheese for the sauce. The other two piles should be close to 1 cup each, one pile for inner layer and the other for the topping.
Once the water is boiling, add in the rigatoni noodles. Follow the package directions for cooking but subtract 2 minute for al dente noodles. Drain the water and transfer noodles to a large bowl. Drizzle a little olive oil over the noodles and stir.
Bring a saucepan to medium heat. Add butter and flour to the pan, cook for 1 minute, whisking regularly. Pour in about half of the whole milk and the half and half, whisking until smooth. Pour in the remaining whole milk and half and half, whisk until well incorporated and has thickened.
Add half of the larger cheese pile to the sauce pan and season with salt, ground black pepper and paprika. Stir together until cheese has melted. Once melted, add the remaining cheese from the larger pile and stir until melted and smooth. Season with more spices as needed.
Pour the cheese sauce over the cooked noodles in the large bowl. Stir to combine. Pour half of the cheesy noodles into the baking dish. Sprinkle noodles with one cup of the cheese mix. Add the remaining cheesy noodles on top. Sprinkle the last cup of cheese mix over the noodles.
Place in the oven and bake for 15-20 minutes, until the cheese is bubbly and a light golden brown.
Servings 6
More News