Fresh News
We're bringing you the freshest news on all things food + more!
05/02/2022
Let's Get the Cinco de Mayo Party Started!
What are your plans for Cinco de Mayo? Whether you're celebrating with your family and friends or heading to a party, Bianchini's is your one-stop shop for snacks, salsas, dips and much more. Enjoy Bianchini's Signature Homemade Tortilla chips, our excellent salsa selection and ready-to-eat guacamole. And if you're looking for standout dishes and drinks that are sure to make your guests come back for more, be sure to browse our Cinco de Mayo recipe collection. You'll find everything from street-style grilled corn and pork tacos with sweet pineapple to lime & mint frozen mojito and citrus infused margaritas.
05/02/2022
May the 4th Be with You AKA Star Wars Day, is nearly here!
This intergalactic holiday can only mean one thing, it's time to enjoy a tall glass of Blue Milk. We've all seen Luke pour himself a glass to have with his meal in A New Hope, but what does it taste like? The mystery is finally over we have a Blue Milk recipe that's out of this world delicious.
Blue Milk
Out of this galaxy good.
Ingredients
4 cups milk, use soy, cashew or coconut for non-dairy
2 cups blueberries fresh or frozen
2 tablespoons maple syrup
1 teaspoon vanilla extract
Directions
Pour the milk, blueberries, maple syrup and vanilla extract in a blender. Pulse until smooth.
Use a cheesecloth or nut milk bag to strain liquid into a pitcher.
Place the lid on the pitcher and refrigerate until chilled. (Can be refrigerated up to four days)
Servings 4
05/02/2022
Create a special Mother's Day brunch this Sunday, May 8th, with a few mouthwatering recipes from our Mother's Day recipe collection.
You'll find a little of everything, enjoy Grand Marnier French Toast, Cinnamon Coffee Cake, Mini Broccoli Cheddar Quiche, Avocado Toast with Egg and Pancetta, Gruyere Sliced Potatoes, Grapefruit and Avocado Salad, and Mascarpone Cream Puffs for an afternoon dessert. And don't forget about Bianchini's Fresh Squeezed Orange Juice and a bottle of her favorite bubbly for mimosas! Browse our full list of Mother's Day recipes.
04/25/2022
This is the final week to vote in the 2022 Almanac Readers' Choice.
Voting closes on May 1st. Please consider voting for your local Bianchini's Market.We are nominated for Best Place to Buy Meat, Best Produce, Best Grocery and Best Sandwiches. The continued support of local farms, ranches, vendors and food purveyors, has allowed us to continue to tailor our inventory to our customers. Letting us provide a truly unique selection of items you won't find anywhere else. Vote today for Bianchini's Market!
04/25/2022
Pizzone Pizzas Now Available at Bianchini's!
Check out what's new in Bianchini's freezer section, Pizzone pizzas. Made locally, in Palo Alto, Pizzone is a Milano-style pizza with a thick and pillowy crust yet surprisingly light and airy in the middle. Each Pizzone pizza is topped with sauce made with the finest Italian tomatoes and premium local mozzarella cheese, with flavorful seasonal vegetables and high-quality cured meats on select pizzas. Stop by our freezer section this week and pick up a Pizzone pizza to bake at home. And for an extra cheesy, extra delicious pizza pie, try our recipe below.
Four Cheese Pizzone with Potatoes, Rosemary and Bacon
Layer after layer of incredible flavor!
Ingredients
2 Four Cheese Pizzone pizzas
4 slices bacon, or Italian pancetta
3 small potatoes
2 tablespoons olive oil
Fresh rosemary, chopped, to taste
Salt, to taste
Ground black pepper, to taste
Directions
Preheat oven to 400 degrees F. Line a baking sheet with parchment paper.
Thoroughly wash and pat dry potatoes. Slice potatoes into thin slices, about 1/8-inch thick. Transfer sliced potatoes to a bowl, drizzle olive oil over top and season with chopped rosemary, salt and pepper. Toss together. Transfer seasoned potatoes to the baking sheet. Place the potatoes in the oven and bake for 12 minutes. Remove from oven and set aside. Keep oven on.
Place bacon in a pan and cook for 5 minutes at medium heat, until lightly browned and crisp. Transfer bacon to a cutting board and cut into 2-inch pieces. (Skip cooking if using Italian pancetta)
Remove the two Pizzone trays from the box and remove the compostable film from the tray. Arrange potatoes and bacon pieces on both Pizzones. With the Pizzone on the provided compostable tray or on two sheet pans, place the Pizzone in the oven and bake for 8-10 minutes. (If the Pizzone is frozen, bake for 10 minutes before adding potatoes and bacon.) Remove the Pizzone from the oven, transfer to serving plates and enjoy your gourmet pizza!
Servings 2
04/25/2022
We Are in the Final Week of Grilled Cheese Month
To end on a delectable note, we are featuring Hoffman Smoked Cheddar cheese. Both cheese connoisseurs and casual cheese lovers have fallen in love with hickory smoked sharp cheddar flavor. Hoffman has accomplished this mouthwatering feat by first aging the cheese and then smoking it with hickory chips. One bite and you'll be hooked!
Smoked Cheddar and Bacon Grilled Cheese Sandwiches
An elevated grilled cheese with deep, rich flavors.
Ingredients
8 slices sourdough bread, about 1/2-inch thick
8 slices Hoffman Smoked Cheddar cheese
4 slices bacon, cooked and cut in half crosswise
4 tablespoons salted butter, divided
Directions
Arrange 4 slices of sourdough bread in a row. Place 2 slices of smoked cheddar cheese on each bread slice. Place an even amount of bacon slices on top of the cheese. Place the remaining four slices of bread on top of the bacon.
Melt 2 tablespoons of butter in a cast-iron skillet. Place 2 sandwiches in the skillet and cook for 2-3 minutes, until golden brown. Flip and cook for an additional 2-3 minutes. Transfer sandwiches to serving plates and cut in half. Repeat process of 2 tablespoons butter and two sandwiches, 2-3 minutes per side until golden brown.
Servings 4
04/18/2022
Grilled Cheese Month is Going Strong in All its Cheesy Goodness
This week we are featuring manchego cheese. This aged sheep's milk cheese from the La Mancha region of Spain ranges in color fro white to ivory-yellow, has a semi-firm texture that becomes crumbly the longer it's aged, with a distinctly zesty flavor with a creamy finish. Manchego is the perfect centerpiece for our latest grilled cheese masterpiece.
Grilled Cheese Sandwiches with Manchego and Serrano Ham
The trifecta of salty, savory and sweet.
Ingredients
3 tablespoons butter, room temperature
4 slices firm white sandwich bread
6 oz. Manchego cheese, sliced thin
4 oz. Serrano ham or prosciutto, sliced thin
4 Medjool dates
Directions
Line a baking sheet with waxed paper.
Evenly spread butter on one side of all four slices of bread. Place two slices of bread butter side down on the baking sheet.
Top both slices of bread with an equal amount of cheese and Serrano ham or prosciutto. Place the dates on top and then lay the two remaining slices of bread on top, butter side up.
Cover sandwiches with plastic wrap and place the in the refrigerator for 30 minutes. (This can be done the night before, follow directions and refrigerate overnight)
Warm the panini press and cook sandwiches according to the appliance's directions.
Alternatively, warm a large skillet to medium-high heat. Once hot, place both sandwiches in the skillet and reduce to medium-low. Use a second skillet or heavy pot to press down on the sandwiches while cooking. Cook for about 4 minutes per side, until golden brown and the cheese is melted.
Remove the sandwiches from the skillet and transfer to serving plates. Cut in half and enjoy!
Servings 2 sandwiches
04/18/2022
Celebrate the Earth this Friday
Did you know that the first Earth Day was 52 years ago on April 22nd, 1970? The day the Earth took center stage, and 20 million people took to their streets to rally for change. A call to action for clean air, water and soil, for humanity come together to protect the planet. With Earth Day falling on Friday this year, we would love to show our appreciation for the hard-working people that have answered that call and make that change a reality. Lakeside Organic Gardens, the largest family-owned and operated, solely organic vegetable grower in the United States uses state of the art organic farming practices that help enrich the soil, reduce food waste, conserve water and overall improve the local ecosystem. This is done by caring for the soil, rotating crops, composting techniques, and most importantly relying on biological controls for disease and pests over synthetic chemicals. These sustainable organic farming practices ensure irrigation is more precise, and essential minerals and microorganisms are put back into the soil. By planting beneficial flowers near the crops, helpful insects are attracted to the area and act as a natural pest control, in turn promoting a more biodiverse ecosystem. We are proud to support local organic farmers like Lakeside Organic Gardens and hope you join us this Friday in celebrating Earth Day and take steps towards making a change for this wonderful planet we call home.
04/18/2022
Voting for the 2022 Almanac Readers' Choice is well under way.
Bianchini's Market is nominated for Best Place to Buy Meat, Best Produce, Best Grocery and Best Sandwiches. Our continued support of local farms, ranches, vendors and food purveyors, allows us to customize our inventory to our customers, providing a truly unique selection of items. Vote for Bianchini's Market today and help make us a four-time winner!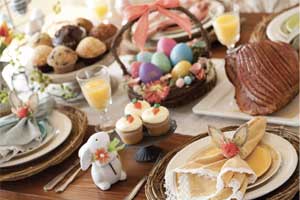 04/11/2022
Bianchini's is Your Easter Shopping Destination
Easter is this Sunday, April 17th. Have you done all of your shopping? Here are the Top Ten Reasons to Choose Bianchini's for All Your Easter Needs.
1) Bianchini's Market is The Readers Choice for Best Place to Buy Meat.
2) We have an excellent selection of delicious See's Candies to Fill Your Easter Baskets.
3) Our floral department has beautiful blooms to brighten up your home.
4) We carry fresh Woodside Bakery Hot Cross Buns.
5) Our specialty cheese selection is second to none.
6) We have a great assortment of cage-free and organic eggs for decoration and recipes.
7) Bianchini's is The Readers' Choice for Best Produce.
8) We have fresh-made Grab-and-Go entrées and salads available every day.
9) As Kneaded Bakery Dinner Rolls are delivered directly to our stores.
10) You'll find some of the tastiest Easter Sunday recipes on our website.
More News