Fresh News
We're bringing you the freshest news on all things food + more!
8/30/21
Fire Up the Grill for Labor Day
The final three-day weekend of summer is nearly here. Labor Day, celebrated annually on the first Monday in September, is next week. The countdown is on to squeeze in one more backyard BBQ, a day of lounging by the pool and taking a trip to the beach. How do you celebrate Labor Day? Throw a few burgers and hot dogs on the grill? Bake a cherry pie? Throw a party with your friends and family? No matter how you celebrate, make Bianchini's your food headquarters. We have a fantastic selection of premium quality meats for grilling, fresh produce for platters and desserts, yummy snacks, refreshing drinks and a wide variety of beers, wines and spirits. Count on Bianchini's for all of your Labor Day needs.
Browse our fantastic Labor Day recipes, you might find a new favorite!
8/30/21
Rosh Hashanah, The Jewish New Year, begins on the evening of Monday, September 6th.
In honor of this momentous event, Bianchini's will feature fresh baked round challah bread from local Woodside Bakery. Famous for their high-quality baked goods, Woodside specially bakes their round challah for Bianchini's and delivers to both of our Portola Valley and San Carlos stores daily. The circular shaped round challah symbolizes the hope for the New Year to continually be filled with many blessings. Stop by our bakery to pick up a delicious fresh baked round challah for Rosh Hashanah.
8/23/21
Make Mouthwatering Burgers for Burger Day!
Celebrate Burger Day this Friday, August 27th, by Building a Better Burger with ingredients from Bianchini's. We have a variety of delectable burger patties, perfectly baked buns and an assortment of toppings and condiments. Whether you love a classic burger with lettuce, onions, ketchup and mustard, yours with a slice of cheese and bacon or Hawaiian-style with pineapple and teriyaki sauce, the burger possibilities are nearly endless!
Browse our recipe collection to find more ways to build a better burger.
8/23/21
Bianchini's Prepacked Dried Fruits and Nuts
Pack a delicious and nutritious back-to-school snack for the kids with Bianchini's dried fruits and nuts. We use only the highest quality ingredients for our dried fruits and nuts, and have them prepackaged in sturdy, resealable tubs for easy grab-and-go convenience. Stop in this week and pick up your favorites! Here's a sweet snack we think the whole family will enjoy!
Perfect for in between classes or as an after-school treat.
Ingredients:
2 tablespoons Bianchini's dried fruit, raisins, cranberries
1 cup multigrain cereal, any variety
1 tablespoon chocolate chips
2 tablespoons Bianchini's packaged nuts, your preference
Directions:
Combine dried fruit, multigrain cereal, chocolate chips and packaged nuts in a resealable bag. Toss together until combined.
8/23/21
Save Big with Digital Coupons
Save even more on your back-to-school shopping with online digital coupons! Gone are the days of having to clip coupons out of the paper to save on the next grocery trip. We've streamlined the process and compiled the best offers just for you. Simply click on the items you want on our coupon page and start saving!
Simply click on the items you want on our coupon page and start saving!
8/16/21
For the Love of Bacon
Mark your calendars for National Bacon Lovers Day, this Friday, August 20th. Did you know that bacon is one of the oldest cured meats? The Chinese have been salting pork bellies since 1500 B.C. And the popularity of bacon has only grown over the centuries. Today, around 53% of households have bacon on hand at any given time. Whether you love your bacon on a burger, with a side of eggs and toast, crumbled in a salad or as a BLT sandwich, there's so many ways to enjoy bacon. 
8/16/21
Order a Bianchini's Signature Deli Sandwich Today!
Make Back to School lunches easier by ordering a Bianchini's Signature Deli Sandwich. Both of our locations make a wide variety of sandwiches to suit many tastes, from gourmet to traditional deli-style. Take a peek at our online sandwich menus by location, and when you're ready, place your order via text and your sandwich will be ready shortly afterward. Once you've enjoyed one of our signature sandwiches, it's easy to see why Bianchini's was voted Readers Choice Best Sandwich three-years in a row.
8/16/21
Shop Online with Instacart
Short on shopping time? No worries, Bianchini's has you covered! You can do all of your Bianchini's grocery shopping online with Instacart and have it delivered to your home or dorm room for students. You can find everything from the daily basics to household supplies. Order fresh produce, soups, salads, prepared foods, fresh deli meats and cheeses, snacks, beverages and much more.
8/9/21
Bianchini's is Here for Back to School
Let Bianchini's help you conquer those back to school lunches and snacks. Our stores carry an excellent selection of fresh fruits and vegetables, an assortment of premium deli meats and cheeses, bakery fresh breads and rolls, award winning deli sandwiches, all-natural granola and cereals, grab-and-go salads, organic milk, a variety of yogurts, fresh squeezed orange juice and all-natural snacks that are ready to enjoy. When it comes to quick and easy shopping, Bianchini's earns and A+.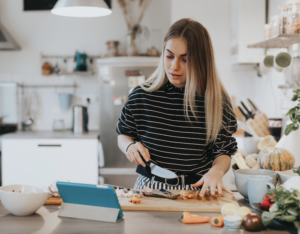 8/9/21
Bianchini's My Menu
Getting back into the routine for school can be difficult. Especially meal planning for breakfast, lunch and dinner. Save yourself time and energy by using Bianchini's My Menu, the easy-to-use tool that streamlines menu planning and your shopping list. When you're viewing one of our recipes, you can click on Add to My Menu to save the recipe and also click on Add All Ingredients to Shopping List to build your grocery list.
More News