Fresh News
We're bringing you the freshest news on all things food + more!
11/01/2021
Turkey Time at Bianchini's
Now is the time to place your order for Bianchini's Complete Turkey Dinner. It's a traditional Thanksgiving feast with all the fixings. Each Complete Turkey Dinner is $179.99, and comes with: a 10-12 lb. turkey, cornbread stuffing, mashed potatoes and turkey gravy, green beans, cranberry sauce, roasted butternut squash and cranberries, 12 dinner rolls and a 9-inch fresh pumpkin pie. Our Thanksgiving meal is fully cooked, all you need to do is reheat! (Warming instructions are provided with the dinner) Don't wait, please get your order in early. Visit your local Bianchini's Market or place your order over the phone. For Portola Valley call 650-851-4391 and for San Carlos call 650-592-4701.
10/25/2021
It's a Halloween Cheese Fest at Bianchini's!
Stop by our cheese department to browse some of the most delicious cheeses of the season. We carry Red Witch, Old Witch, Jack O Pumpkin, Scorpion Gouda, Vampire Slayer Garlic Cheddar, and many more. Speak with our staff for pairing suggestions, to learn more about these cheeses, or help with selecting the perfect cheeses, or help with selecting the perfect cheeses for your Halloween cheese board. And while you're here, stop by our beer section to pick up Voodoo Ranger IPA, it's a superbly tasty brew that's perfect for Halloween celebrations.
10/25/2021
Conjure Up a Pizza for Halloween!
With Halloween just days away, what are your plans? Passing out candy? Hosting a costume party? Or maybe staying in to watch scary movies? Do you know what all three have in common? You can enjoy pizza doing them! Pizza is the food choice for Halloween; it's easy, customizable and always delicious. This Halloween try making your own pizza with tasty ingredients from Bianchini's. We have an assortment of pizza crusts, sauces, cheeses, meats and toppings; everything you need to create your perfect pizza at home! Browse our recipe collection to create a truly spook-tacular homemade pizza!
10/18/2021
It's OK to get a little nutty this Friday, because it's National Nut Day!
Celebrate this yummy food holiday by enjoying almonds, cashews, macadamia, pecans, pistachios and walnuts. We'll even let peanuts in on the fun! Bianchini's carries a wide variety of prepacked nuts. We choose only the highest quality nuts to ensure our customers are getting the best of the best. Packaged in resealable and sturdy tubs, meaning the food will stay fresh and can be taken anywhere for on-the-go enjoyment. Best of all, our prepacked nuts are recipe ready. Browse our recipe collection and enter the type of nut you're looking for in the search bar for delicious recipes!
10/18/2021
World Champion Rogue River Blue Cheese
Available for a limited time, visit Bianchini's Cheese Shop to purchase the World Cheese Award World Champion Rogue River Blue Cheese. This artisanal cheese has a rich, fudge-like texture with flavor notes of fig, vanilla, truffle, toffee, pear brandy and a pronounced "blue" taste that blue cheeses are renowned for. Specially prepared during Autumn in the Rogue Valley, when the cooler temperatures bring renewed pasture of growth for the cows to graze upon. Rogue Creamery's Rogue River Blue Cheese is carefully aged for 9-11 months in the Rogue Creamery aging caves and wrapped in organic Syrah grape leaves that have been soaked in pear spirits. Enjoy Rogue River Blue on its own, with a fruit compote, atop a salad or paired with a wine like Viognier, Syrah or Cabernet Franc. Do not miss your chance to savor this award-winning cheese, quantities are extremely limited.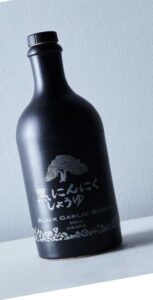 10/11/2021
Haku Black Garlic Shoyu Sauce is the latest addition to the already excellent assortment of sauces at Bianchini's.
Shoyu is a Japanese-style soy sauce that is a mash of soybeans and wheat. Traditionally sweeter with a more nuanced flavor profile, Haku Black Garlic Shoyu Sauce contains notes of fig, molasses and raisin with subtle notes of garlic. The Haku family is renowned for their shoyu, honing their techniques over many generations to produce a sauce that is unparalleled. Enjoy Haku Black Shoyu Sauce with your rice, as a dressing or dip, drizzled over ramen, as a base for stir-fry or marinade for meat. Stop by your local Bianchini's this week to get your own bottle of Haku Black Garlic Shoyu Sauce.
10/11/2021
Celebrate National Mushroom Day
Enjoy your favorite mushroom dish this Friday in honor of National Mushroom Day! Whether you love your mushrooms satuéed, roasted, baked, grilled or fresh, there are so many ways to prepare these tasty little morsels. Did you know that mushrooms are a good source of protein? They're also rich with potassium, B vitamins, vitamin C, calcium and zinc. For a yummy twist on the everyday burger, try swapping out the patty for a grilled portabella, it's hearty, savory and satisfying. Stop by your local Bianchini's to find Chanterelle, Cremini, Portabella, Shitake and more many more mushrooms. Browse our mushroom recipe collection for even more fun ideas!
10/04/2021
The MLB Playoffs begin this Tuesday, October 5th!
Let's hear it for the home team, The San Francisco Giants! Before the first pitch, stop by your local Bianchini's to get all of your favorite grilling items. Pick up burgers, brats, chicken, steaks, hot dogs, ribs and more. Once you've seen our selections, you'll know why Bianchini's was voted Readers' Choice Best Place to Buy Meat for three years in a row. Browse our grilling recipes for mouthwatering ideas.
10/04/2021
Fiesta of Flavors on National Taco Day
Did you know that National Taco Day is this today, October 4th? We're celebrating by enjoying our favorite tacos all day long! There are so many taco variations, the hardest part will be which taco to have first. There's ground beef, steak, shredded pork, grilled chicken, vegetarian, bean and cheese, breakfast taco; and that's not including salsa, cilantro, avocado, tomatoes, diced onion and grilled peppers. The taco possibilities are nearly endless! Whether you love a crunchy hard-shell taco or a soft flour tortilla, we have a delicious taco recipe that's sure to tickle your taste buds.
9/27/2021
National Coffee Day is this Wednesday, September 29th.
Join us in celebrating this buzzworthy day by enjoying a hot cup of joe. Did you know that coffee is the third most consumed beverage in the world? Right after water and tea respectively. Here's a fun fact, coffee has been enjoyed since the 15th century! With the coffee seeds roasted and brewed much in the same way we prepare coffee today. Coffee is a highly versatile ingredient that can be added to cakes, cookies and pies, mixed into ice cream floats, used in a steak rub, and don't forget about the classic dessert tiramisu. Here some truly delicious coffee-centric recipes we'd love for you to try at home. 
More News